Amazon's Robotic Order Fulfillment
When Amazon announced their Amazon Prime Air service on the eve of Cyber Monday many people sat up and took notice. But the presentation was essentially showing the public what many had already known - Amazon is entering the field of advanced robotics.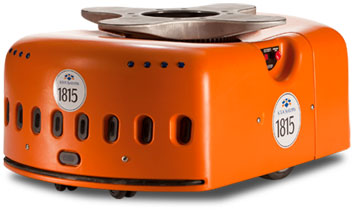 In March of 2012 Amazon acquired Kiva Systems, a manufacturer of robotics warehouse machines. Kiva built a fleet or orange floor skittering robots that made order fulfillment fast and easy at a large array of customers. Earlier Kiva customers included Crate and Barrel, Von Maur, Walgreens, Diapers.com, Gilt Groupe and Staples.
Kiva's basic innovation is to create a bill of materials for a customer order and have the materials for the order come to the user, instead of the user walking around a warehouse looking for the necessary items.
The Kiva system can also organize the inventory itself based on which items are ordered more and bring them closer to the order fulfillment area. This cuts down on robotic travel time so that the most popular orders can be completed in the shortest amount of time.
Units move by training cameras at the floor and reading bar code stickers that tell the robots where to go and which shelves to bring with them. Sensors also constantly read information and beam it back to a central brain so that if one unit notices an un-level floor or a misaligned sticker then every unit can be aware and ready for the anomaly.
And then, in December 2013, in an interview with CBS's "60 Minutes" on Sunday evening, Bezos unveiled Amazon Prime Air, a service that delivers packages via autonomous drones. With the service, Bezos said he hopes that the company will be able to deliver packages into customers hands within 30 minutes of the time they place an order.
Bezos says the current generation of test drones have a 10-mile radius from a fulfillment center, can carry objects up to five pounds, which covers 86% of the delivery items.
Amazon, for the record, does not say that their technology is ready to be implemented as-is. They're going to have everything ready by 2015, when new airspace rules from the U.S. Federal Aviation Administration will allow for some sort of commercial drone operations.
"The hardest challenge in making this happen is demonstrating to the standards of the FAA that this is a safe thing to do. This is years of additional work at this point," Bezos said.
Amazon is making great strides in the field of robotics and all of the effort is built around the idea of a better customer experience. When the warehouse is more efficient then the customer can receive orders faster and bring more of its business to Amazon.