Jaco: Robot Arms That Improve Lives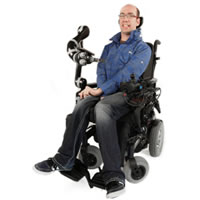 Kinova is a Canadian company engaged into the design and manufacture of innovative solutions in the field of personal robotics. The team of experts at Kinova is dedicated to offer practical robotic platforms solving real and concrete problematic of daily life, especially in rehabilitation.
Jaco was introduced in the rehabilitation market in 2010. It is a six-axis robotic manipulator arm with a three-fingered hand.It is mounted on the power wheelchair seat frame and using the same control as this one. It is meant for persons in power wheelchair with advanced muscular disabilities such as muscular dystrophy, amyotrophic lateral sclerosis, spinal cord injury, multiple sclerosis, and sometimes neurological disorders.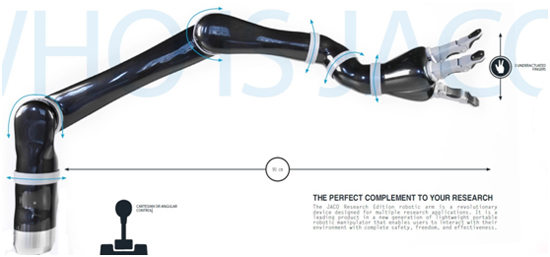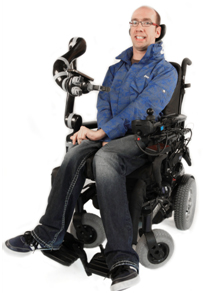 It helps those individuals by realising multiple daily tasks that they cannot perform anymore. For example, thanks to its multifunctional hand, it is possible to serve yourself a glass of water. Moreover, you can bring your food to the table and enjoy your meal. Even if people in your surrounding are ready to help, we are never better served than by ourselves.
Kinova Robotics http://kinovarobotics.com/
THE ARM
JACO Research Edition moves smoothly and silently around 6 degrees of freedom with unlimited rotation on each axis. The axes are aluminum compact actuator discs of a unique design. Each JACO robot arm consists of 2 distinct sets of 3 identical, interchangeable, and easy-to-replace CADs linked together by a ZIF (zero insertion force) cable. Its main structure, entirely made of carbon fibre, delivers optimal robustness and durability as well as a cutting-edge look-and-feel. The arm is mounted on a standard aluminum extruded support structure that can be affixed to almost any surface.
THE GRIPPER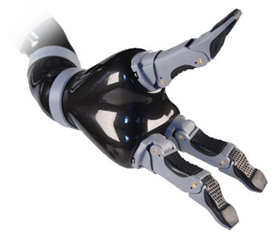 The gripper consists of 3 underactuated fingers that can be individually controlled. Their unique bi-injected plastic structure endows them with great flexibility and unrivalled grip. JACO Research Edition technology allows the fingers to adjust to any object whatever its shape; as a result, they can gently pick up an egg or firmly grasp a jar.
CONTROL
JACO Research Edition can be controlled with a computer or Kinova's 3-axis, 7-button joystick. Control is intuitive and allows users to navigate using 3 different modes: translate, rotate, and grip. Also, Kinova's Intelligent Singularity Avoidance System always keeps JACO safely away from unwanted locations. The arm is highly flexible and can adapt to all user needs.
SOFTWARE
JACO Research Edition features an advanced application programming interface (API), enabling programmers to raise their experience to another level. The API, linked to the arm through a USB 2.0 connector, allows programmers to configure advanced parameters and integrate the robot to their own systems. In addition, JACO Research Edition can be controlled with any one of many navigation systems, providing a broad range of applications from analyzing central system data to programming automated paths.
APPLICATIONS
Kinova develops highly effective personal robotic platforms that are easy to use. Jaco research edition is the ideal partner for various types of studies, for example:
Academic
With its ease of use and complete bank of API functions, students to learn about robotics and actively carry out robotics projects without having to be spectators of caged robots.
Brain-Computer Interface
The JACO Research Edition robotic arm is a natural extension of your thought-based control. The inverse kinematics developed by Kinova is easy to operate and even avoid singularities.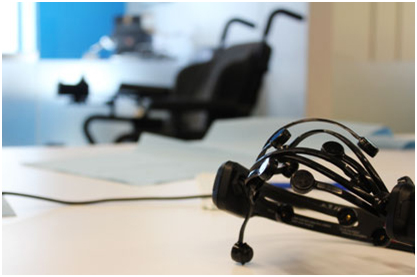 Clinical Trials
Do you want to validate, develop or analyze items while using a robotic arm as a technical rehabilitation aid? JACO Research Edition offers everything you need for carrying out studies in a clinical setting.